Setlist:

November 26, 1997 Düsseldorf, Stahlwerk
Düsseldorf, Stahlwerk &nbsp
November 26, 1997 Düsseldorf, Stahlwerk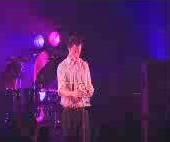 Thanks to Heather Scott for the pictures.
I went to see Faith No More in Duesseldorf yesterday as a taster for the Paris concert on December 9, which I'm going to visit as well. Being from Holland, I thought Duesseldorf was quite far away, but we managed to drive up there in about one and a half hour. Finding the venue, the "Stahlwerk" proved to be no problem after asking a police officer in the center of the city. Arriving at the hall, I thought the venue was really small, although there were a lot of people hanging around. The average Faith No More audience, although there seemed to be a lot of girls amongst the audience. We met two girls from Amsterdam (dag Margot en Danielle!) who told us they were going to the London show as well.
We 'missed' the opening acts, and at 21:30 we entered the hall, which turned out to be much larger than I had expected from the outside. It was a large rectangular shaped hall, three times as long as it was wide, with iron beams attached to the ceiling, and I feared that the sound quality would suffer severely from this. The hall was completely PACKED. There was absolutely no oxygen anywhere amongst these 3,000 Germans. In this mess, I had the luck to run into Stefan Negele and Frank Eble, it was great to see you guys again! The setlist was stuck to the mixing desk, where Stefan and Frank were standing, but I decided to just wait and see. And boy did I see something!
Midnight Cowboy
Land Of Sunshine
Midlife Crisis
Ashes To Ashes
Naked In Front Of The Computer
Stripsearch
Easy
Introduce Yourself
The Gentle Art Of Making Enemies
Last Cup Of Sorrow
Home Sick Home
King For A Day
Epic
"Barbie Girl" (Aqua)
Get Out
Just A Man
Encore
"This Guy's In Love With You" (Burt Bacharach)
"This Town Ain't Big Enough For Both Of Us" (Sparks)
We Care A Lot
"Phenomenon" (LL Cool J)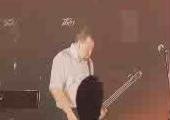 The opening was great - it was the first time I heard them play Midnight Cowboy, and the arrangement with the melodica and the drums getting more and more bombastic is just great. The crowd loved it. After that, Land Of Sunshine really got me going, and I couldn't resist the temptation to move up front notwithstanding the fact that I'd been very ill the day before. It was great to hear the whole band stop in the middle of the song, and Mike doing the guitar solo vocally! The sound was very good from where I was standing, which was contradictory to my expectations. Every song was a classic in its own right, but the ones that stuck out for me were Ashes To Ashes, Stripsearch, King For A Day (with an absolutely fantastic ending, great use of lights, Apocalypse Now) and the first two encores. I was hoping for the Bacharach song, and they played it really well, but I was even more surprised to hear the Sparks song. I didn't know it was Sparks until a friend of mine remarked "this sounds like a Queen song". Given the similarities between Sparks and Queen, I thought, hey, this must be a Sparks song then. Stefan confirmed this after the show. VERY bombastic song, it reminded me of a musical with heavy guitars. Absolute killer. After that, I was hoping for Pristina to sustain the bombastic mood, but instead they closed off with We Care A Lot. The crowd kept cheering long after the house lights had been turned on.
Remarkable Mike Patton antics: in a fit of vulgarism, Patton was cursing and telling us he wanted to fuck us and what not, asking even who in the audience knew the band Rockbitch. I guess you must be from Holland to appreciate this comment :-)
After the show we hung around a bit and talked with some other Dutch people who were there as well (dag Christel!). After a while, Billy came out and we shook hands. Also, Billy told me they played the Sparks song because they're going to perform on stage with Sparks at the London show, so they were just trying out the song with two more shows before London.
I'm really looking forward to going to the Paris concert. Having never been to a concert in France I'm wondering what the French audience will be like.
So, all in all a brilliant show, one of the better I've seen them play this year.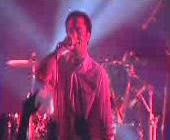 frankco pretty much wrote everything about the Dusseldorf show. that place was indeed packed like a bus in Turkey. they had ventilators up teh ceiling but they only turned them on for about 30seconds. I guess it was more fun to let the people sweat and suffer from smoke. the sound was pretty much okay. it sounded awful when the opening bands played but it got way better during faith no more. like frankco said frank and I were standing next to the soundboard and I was observing the soundboard guy during the songs which I don't like too much. the show started with teh three killer songs and for a second I was thinking to follow frankco up front where he was stiring up some shit when wrestling with drunk germans but then after midlife crisis i got pretty passive and mostly just stood there and watched people enjoying the show. i couldn't quite see what was going on at the end of just a man but from where I was standing I think mike was pulling the mic out of his pants and pretending to jerk off while.. once again.. the right music to that was coming from the band.
the encore was just amazing. I would have gone to hannover if they wouldn't have played the Bacharach song in Dusseldorf. After that they crushed the place with the sparks cover song. I was grinning like a little baby when I recognized taht one and remembered all the guys who told me their stuff on the sparks album sucks. I'm pretty sure they'll change their mind.
Stefan
971126Bach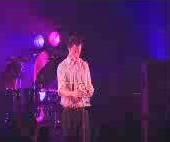 971126Gould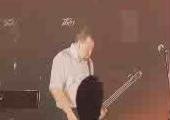 971126Patton