Setlist:

March 16, 1995 Cologne, Live Music Hall
Cologne, Live Music Hall
March 16, 1995 Cologne (Germany), Live Music Hall
Digging The Grave
Be Aggressive
Midlife Crisis
The Real Thing
Falling To Pieces
Evidence
Cuckoo For Caca
We Care A Lot
Easy
Introduce Yourself
Get Out
"Zombie" (Cranberries)
King For A Day
Epic
The Last To Know
From Out Of Nowhere
Caffeine
I Started A Joke
What A Day
The Gentle Art Of Making Enemies
Take This Bottle
Let's Lynch The Landlord
They played a little 30 sec. Zombie cover from The Cranberries just before King For A Day while Mike is playing around with a bra someone threw on stage. To the end of KFAD Mike does real unnatural sounds which have a real high frequency, first I thought he plays with his mic and the loudspeaker, but when I saw him he was sitting on stage with the mic in his mouth! (Sounded like a crying wulf?) They also played FTP, which I thought they will never play again. (after I heard Billy saying this at the Phoenix 93 show??) TGAOME is one of the heaviest songs Mike performed live! I he fell 5 or 6 times on the ground while he jumps, screams, yells and runs. Followed by TTB!!! They did a 10 min extended mix of that song. After the regular 5 min song length, roddy went off stage, Mike said good bye and he wanted to go too, but then: Dean, Billy and Puffy started again, so Mike came back and went on singing the refrain. "... and just walk away" - little break - the song starts again... after doing this 3 or 4 times, Mike forced Billy and Dean to do some guitar solos, and Puffy did a Swing kinda drums rhytmus. After this he threw the mic in the crowd to get some guest-vocals. The first one was a woman - really bad - but then a guy grabs the micro and he had just the same voice as Mike and did a great TTB performance. When Mike heard him singing he goes insane... he jumped around pointing to that guy with a real surprised look in his face - he never thought that there will be someone who can actually sing - ha ha. After 30 sec he wanted the mic back and said with a smile in his face: "You make me look bad up here!" Then it was time to do the main refrain again, just before Roddy came back and they finally played Let's Lynch The Landlord.
My ticket. (20K)
Stefan
950316Group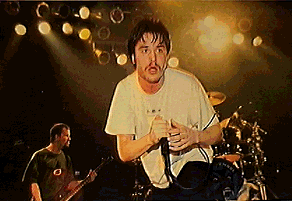 950316Ticket