Setlist:

June 5, 1995 Landgraaf, Renbaan - Pinkpop Festival
Landgraaf, Renbaan - Pinkpop Festival
June 5, 1995 Landgraaf (Holland), Renbaan - Pinkpop Festival
Ricochet
Be Aggressive
Midlife Crisis
Evidence
Caffeine
What A Day
Easy
Introduce Yourself
We Care A Lot
Get Out
Caralho Voador
King For A Day
Epic
Digging The Grave
Well,
Here's a report of the Pinkpop festival which was held in Landgraaf, Holland, Monday 5 June. The line-up included the following:
Hootie and the Blowfish
Spearhead
dEUS
Bettie Serveert
Heather Nova
Danzig
Live
Bad Religion
Slash's Snakeshit
Rollins Band
Biohazard
Faith No More
The Levellers
Sinead O'Connor
Most of this sucked. We arrived at the terrain to see Spearhead play. This was a good show by talented musicians, although I disliked Michael Franti's dogmatic raps sometimes. Then came Belgian band dEUS, who you should all check out because they are great. They played a very experimental set, including some songs that no one knew (even the biggest fans). Stefan knows what I am talking about. After this, everything sucked (including Rollins Band, although he had the guts to play Do It and Low Self Opinion this time around) until Biohazard entered the stage. These guys RULED!! They were extremely fanatic, and played a great set, including the Cypress Hill song 'Ain't going out like that'. After this, FNM entered the main stage.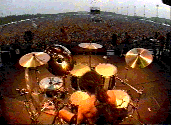 My recollection of this is necessarily incomplete, since I got a severe headache during What A Day and I had to leave the pit (which wasn't really a pit, since it was too crowded with high school dumbasses) in order to vomit my heart out.
So I witnessed the rest of the set from a distance. Damn it, that sucks. Well, FNM was good, although I was more impressed with Biohazard today. Don't ask me why, it just happened. And I am not even a hardcore fan!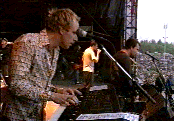 The middle part of Caffeine was extended to a few minutes which was great, but didn't really work in a festival environment. But it was great to me. Also, Biohazard had praised Bad Religion saying 'Biohazard loves Bad Religion; you should all go out and buy their fuckin' records' and subsequentlye played a Bad Religion song featuring some guys from Bad Religion. Well, FNM teased with this during We Care A Lot, when Billy and Mike repeatedly shouted 'Faith No More love Hootie and the Blowfish; go out and buy their fuckin' album', and Mike screaming 'Hootie, Hootie, Hootie' in the middle part. (note that Hootie was also featured at this festival).
I was very much surprised that they played Caralho, which I think is a rather strange choice for a festival. Especially since time is short, and Puffy does not play on it.
At the end, Dean played the riffs to both Just a Man and DTG, and Mike and Bill (who is talking a lot these days) let the audience choose. Obviously, they played DTG.
Due to a strict time schedule, there was no time for an encore.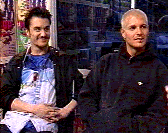 All this shit was recorded for TV and broadcast the same night. They showed an interview with Mike Patton, together with Billy Graziadei from Biohazard, and showed two songs : Easy (of course) and Introduce Yourself. The interview was one of the dumbest things I have ever seen. The man had no clue.

He tried to compare Biohazard to FNM (huh?) which leads to astonished looks from both Mike and Billy. Then the interviewer says what it feels like to be not your average American. At first, Mike doesn't even understand the question; when he gets it, he is dumbfounded, and gives the ridiculous answer that he and Billy are average Americans and that all the others are freaks.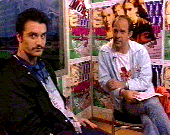 Upon which the interviewer says 'That's nice'. What a dumb ass. Then Billy leaves, and the interviewer says to Mike that their music is sometimes extremely soft and sometimes extremely hard. Mike, who again does not know what the guy is getting at, replies:

'So?...What's the matter (amazed voice)?...Do you want me to apologize or something? ....That just makes sense to us. (thinks) It's like...the tide flowing in and out...When you're on stage, you're like swimming in a see of waves, and all these slow songs are the islands where you can rest. (great imagery)' After this, they play Easy and IY to show the both sides of the band (both sides, man they have only one side, what a dumbasses!!)
Frankco
950605Crowd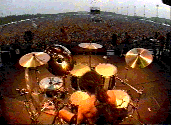 950605Group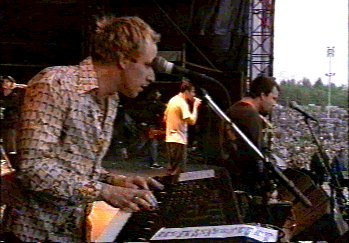 950605Interview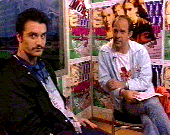 950605Mike

950605Okay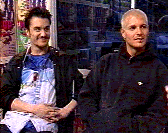 950605SGroup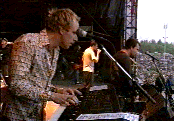 950605What