Setlist:

July 19, 1997 Zeebrugge, Beack Rock Festival
Zeebrugge, Beack Rock Festival
July 19, 1997 Zeebrugge (Belgium), Beack Rock Festival
Last Thursday I thought, what the hell, and I went out and bought tickets for the Beack Rock Festival in Zeebrugge, Belgium, on Saturday 19 July. After a 2,5 hours drive I met up with a friend of mine who had come from a different part of Holland. The festival area was located at the beach, as the name already suggests. Zeebrugge is a coastal town in Belgium that attracts a lot of tourists (for reasons beyond me, since it is a very ugly town), and a lot of the people visiting the festival were tourists who apparently had nothing better to do. The line-up wasn't much to write home about either. Besides FNM, you had Mark Owen (formerly of Take That), Neneh Cherry, Wet Wet Wet, and Simple Minds. I have always asked myself how a band like Faith No More ends up on a festival like this. I mean, they are practically the only 'alternative' artists that will appear on such a festival. Anyway, I didn't feel much like watching any of the other artists so we strolled around a bit until an hour before FNM came on.
The area before the main stage was structured in typical Belgian fashion. There was a small 'pit' area that looked like it was created to keep people at the front separated from people behind in order to avoid fainting at the sight of Mark Owen. The stage had a 5-7 meters long walkway sticking out into the crowd. Running from the walkway to the soundboard tower was a corridor that separated the audience into two halves. I've been to a number of Belgian festivals before, and they always appear to organize it in this peculiar fashion. We entered the 'pit' area, where there was enough room to see the entire stage.
Faith No More entered the stage at 19:45 and they were scheduled to play until 21:00 (they played until 20:45, however). The setlist ran as follows.
Collision
Midlife Crisis
The Gentle Art Of Making Enemies
Last Cup Of Sorrow
Easy
Evidence + ad lib of Neneh Cherry's "Buffalo Stance"
Introduce Yourself
Home Sick Home
Naked In Front Of The Computer
Started A Joke
Epic
Mouth To Mouth
Ashes To Ashes
Just A Man
Encore
Stripsearch
We Care A Lot
Unfortunately, they did not use an intro tape, so it was very strange to hear them kick off with Collision without any tension bow being broken by the start of that song. All in all, it was a decent concert but nothing spectacular. Although there were a few surprises in the setlist for me (having been to two shows in April/May, I hadn't heard either Stripsearch nor Mouth to Mouth yet), the setlist seems to converge more and more to Faith No More's greatest hits. I couldn't get the idea out of my head that the show was played on automatic pilot. Faith No More being a band who have always claimed they like to do something different from what the audience expects, they are STILL playing Easy some three years after it has lost it's initial shock value. And while I thought it was nice to hear I Started A Joke, I wonder why they have to resort to a little-known cover song (I seemed to be the only one around who had ever heard the song, judging by people's reactions) while they have so many good songs of their own to play that they don't give a chance. They probably played ISAJ to have a resting point in the set, but why not try She Loves Me Not? Another point of criticism on my behalf is that I believe they concentrate on the wrong songs off the new album. Yes, this was a festival, and this wasn't exactly a FNM audience, but I sincerely hope that when they return to do the club gigs in Holland in August that they will drop Naked In Front Of The Computer (which I think is easily the worst song on the new album, with the lamest lyrical contents I've ever heard in a FNM song), and that they will skip at least one of Ashes To Ashes or Last Cup.
Amongst this sea of mediocrity there were a couple of remarkable things. Mike Patton returned to the days of ad lib by singing the chorus to Neneh Cherry's Buffalo Stance in perfect time with Evidence. The expression on his face showed that he was as surprised as the audience to hear it fitted perfectly with the music. Also, Patton made good use of the walkway by venturing onto it for some of the more dramatic moments of the show. He tried to have Jon Hudson step up as well for the guitar solo in Easy, but Jon could only make it for about two meters until the length of his guitar cable ran out. Patton made fun of him during the entire solo, saying "Is this rock'n'roll?" and "Nice try". Although a decent guitar player, Jon Hudson is probably the most faceless guitarist they have ever had. But maybe that is exactly what they want from a guitarist. Roddy Bottum kept talking French to the audience, which people in Flanders (the part of Belgium that Zeebrugge is in) sometimes take as an insult. Patton replied by asking "What do you want to hear? You want to hear Gracia? Is that any better?". The fact that the set was played on auto-pilot became apparent during Just A Man, which knew a pretty lame rendition without the grandiloquence that made it stand out so much at the club gigs last May. Also, although I was happily surprised to hear Stripsearch, the song doesn't work half as well live as it does on the album. The interplay between keyboard and guitar in the second half of the song is too subtle to get across on stage. On the album, the guitar sounds very restrained in favor of the keyboard washes which give the song its eerie atmosphere. In Zeebrugge, the keyboards were totally drowned out by much too loud guitar. This was followed by the strangely placed We Care A Lot as a set closer - a song that should have been ditched by this time as well.
So, all in all it was an enjoyable show, but I don't think I would have cared much for it if I weren't a Faith No More fan (or maybe I would have, because the set list wouldn't have concerned me in that case). I think Faith No More are falling prey to becoming Rock Icons here in Europe, and I doubt whether that is to their advantage... We'll see to what form they return when they come back in August.
Frankco Lamerikx.
970719_axion10mp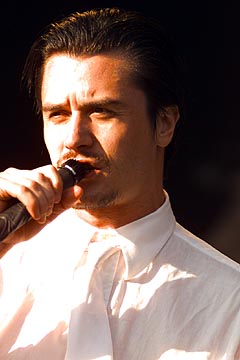 970719_axion11mp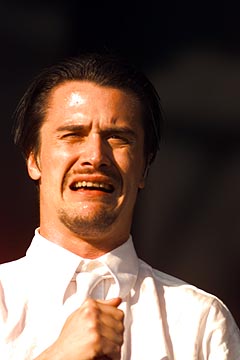 970719_axion1jh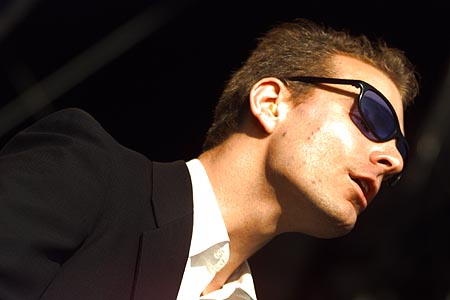 970719_axion2mp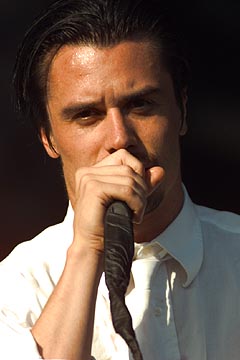 970719_axion3mp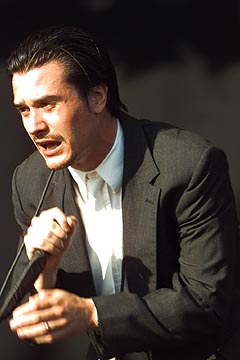 970719_axion4jh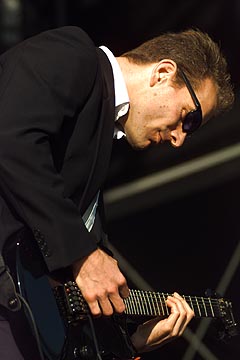 970719_axion5jh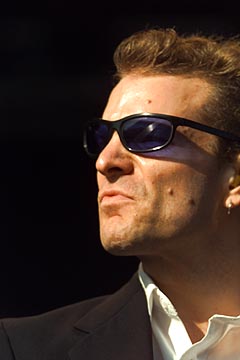 970719_axion6mp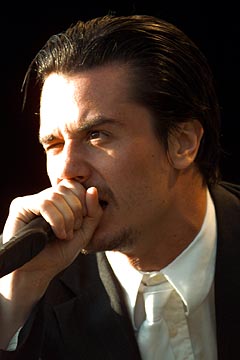 970719_axion7jh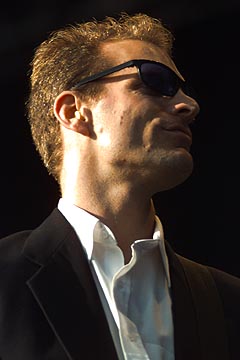 970719_axion8mp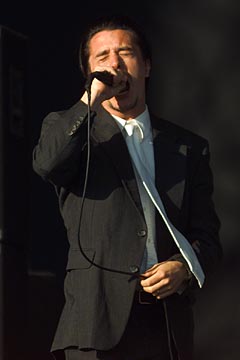 970719_axion9rb