Setlist:

March 26, 1995 Munich, Charterhalle
Munich, Charterhalle
March 26, 1995 Munich (Germany), Charterhalle
Digging The Grave
Be Aggressive
Midlife Crisis
The Crab Song
Land Of Sunshine
"Jingle Bells"
Evidence
What A Day
We Care A Lot
Easy
Introduce Yourself
Get Out
King For A Day
Epic
"Glory Box" (Portishead)
Ricochet
From Out Of Nowhere
Encore 1
"Carnaval In Rio" (Heino)
The Gentle Art Of Making Enemies
Take This Bottle
Let's Lynch The Landlord
Encore 2
Death March
I Started A Joke
Caffeine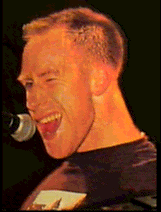 Roddy played the first three song with a silver crown on his head. Billy shouted the whole evening as often as he can "Hallo München, Bayern". While Dean playes the first notes for "The Crab Song", Mike asked the audience, if anyone has seen his red wine! "Where is my Rotwein" And then after smiling he looked at Dean and said: "Do you like Jim?" Roddy (or Billy?) added: "How are you Jim" before Mike began with his first line for "The Crab Song". Right after this song, Mike asked the crowd:
"Anybody feel like singing Jingle Bells"
Billy: "Let's do it"
Mike: "Let's start the beat"
"It's christmas everyday here in Munich"
"Wow!!!" - after the audience picked up the song.
"Merry christmas, München (the german pronunciation of Munich) from Faith No More to you!"
After this song:
"Here's a christmas present ... a new song", then Dean started Evidence after he played guitar tunes, like in Evidence, for Jingle Bells. Towards the end of "King For A Day" (Mike had again, as in Cologne, his micro *in* his mouth and whines/screams very unhuman) he lied on the ground and pretend to sleep while the song fade out. Dean did a excellent job this evening, he experimented a lot with his guitar.
To the end of Epic Roddy used his keyboard outro as an intro for "Glory Box" from Portishead, after he realized that Mike started to sing this song. (The singer of Portishead is a woman and she has a very high voice - but that is no problem for Mike, as he never learned anything else he had the same high voice). The line of this song: "I just want to be a woman" was transformed into "I just wanna be a german" after he added some more Jingle Bells sentences and before Billy changed the "german" into "Bavarian". As mentioned some lines before Dean played very well on his guitar, after this cover song and the band, especially Mike, was very happy with this. "wow dean.... oh *DEAN* ....... TAKE THAT SHIT, DEAN", Puffy stands on his drums and applauded Dean. Billy and Roddy were looking at Dean and smiling.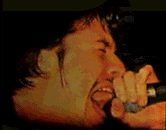 The "carnaval in rio" cover, they played a lot at the 1990 german tour(s), was the first encore.
"Anybody got a Weissbier(A bavarian beer) ?"
"Carrrrrrrrrrrrnival in RRRRRRRRRRRRio!" (Mike said the R like we german do, not the smooth english one)
The response to carnival... was not very good, so Mike added:
"Don't play stupid, I know you know it!" - then the audience gets louder...
"That's it ..... you *DO* know it!"
"You love that song, ha!" (with a satisfied smile on his face) then the following line in some rap style...
"You know Carnival In Rio, you know what I'm saying" , which obviously no one understood, because everyone didn't know what Mike wanted to say and just stared at the band.
"They don't like it... ha ha ha ha ha"
"Fuck that shit" then TGAOME starts....
"I'm a Schwein(the german word for pig) .... they *HATE* it ... ha ha ha" During the gentle art of... he fell many times on the floor, he stands up and his eyes closed and opened not simultaneous and he could not stay on one place. I mean not his typically movements while singing, he acted more like a drunk man. One eye opened the other half closed, falling on the ground, lying there, standing up jumping around, trying to look into the audience, fall again on the floor... headbanging all the time... but he never made mistakes in the songs.
Ok, after the "regular" Take This Bottle part he wanted Puffy to do a drum solo... here's what happened:
"How many people out there like to hear a drum solo?" this and all the following conversation with the audience happened while the band played TTB in "silent mode"...
"I don't think, our drummer has ever done a solo in front of people before!"
"I think he wants to do one tonight!!!" Puffy did not start to change his way to play the drums...
"he's not sure..."
"shh sh sh.... it's the first time"
"Shhhhhut up"
"Maybe if you yell'em. then the opposite approach!"
"say: I fuckin hate you puffy"
Billy:"I - hate - fuckin' - Puffy"
"he's getting louder...." Mike laughs... "He's playing harder, ha ha" but he did nothing apart from his regular Take This Bottle tunes....
"Drummer.... come on..." then Billy interrupted this little game by playing the first notes for Lets Lynch The Landlord....
"thank god for bass"
"saved the whole evening..."
Well, Caffeine was the last song of this wonderful evening.
Stefan
950326Mike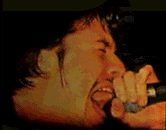 950326Roddy