Setlist:

May 4, 1997 Cologne, Bürgerhaus Stollwerk
Cologne, Bürgerhaus Stollwerk
May 4, 1997 Cologne (Germany), Bürgerhaus Stollwerk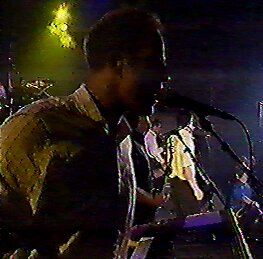 it all started saturday morning when i received the tape of the 12-track version of "album of the year"... i listened to it about five times that day and to be honest..i was really disappointed.... there are two brilliant songs on the album: "mouth to mouth" and "she loves me not"..the rest is kinda ok..except for "ashes to ashes" and "last cup of sorrow". i really think these songs are kinda crappy..."ashes.." really sounds like bon jovi to me (that it sounds like bon jovi was Frank's idea originally...but i totally agree)..... i was really disappointed by John Hudson's guitarwork...there is absolutely no creativity in it......(please Trey....rejoin LOL)...
ok anyway...on sunday two friends of mine and I started at 12 and arrived in Cologne 5 hours later at 5 pm... we went to Frank's house..where he and Stefan already waited for us...we watched some really funny videotapes of the Faxed Head Australian tour and then left to go to the Buergerhaus Stollwerk where the show took part....we arrived at 7 pm and met Frankco who had come from Holland with two friends of his. They had the same two t'shirts on sale as at the Amsterdam show...i really didnt like them...so i didnt buy one of them. at 8:30 pm a band from Berlin started the show....they played some old fashioned punk rock stuff.......I hated that.... they played for about half an hour...then some roadies started to redo some soundcheck and it took about half an hour before Faith No More started the show....
everything like outfit , setlist and all that stuff was completely the same as in Amsterdam.....thats what Frankco told me.
so here are some comments about how they played and about stuff like sound...stage behaviour etc...:
Be Aggressive
Midlife Crisis
Ashes To Ashes
Naked In Front Of The Computer
The Gentle Art Of Making Enemies
We Care A Lot
Easy
Evidence
Home Sick Home
Land Of Sunshine
Introduce Yourself
Last Cup Of Sorrow
Surprise! You're Dead!
King For A Day
Epic
Just A Man
Encore 1
Collision
Path Of Glory
Encore 2
Caffeine
the sound was not very good.....you couldnt hear much of the keyboard and guitar was not very loud as well. Mike Patton was brilliant as ever and really did a great job.....his show was really cool...he jumped around..pretended to be drunk sometimes (maybe he was?) and made fun about the audience when he asked all the band members to do little solos between two songs and then said that this is the Party Crap that all the people in the audience wanna hear.
Billy Gould and Mike Bordin did a good solid job.....i cannot say anything about what Roddy did because I couldnt hear most of it..... i just can say that John Hudson also disappointed me on stage.....he played a slow tempo version of "surprise you're dead", his guitarwork was full of mistakes...(you really can hear that on the tape) and his stage presence wasnt very good...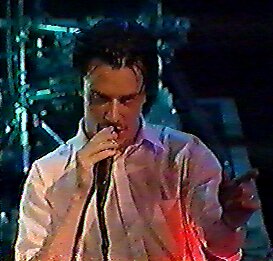 Mike Patton looked at him sometimes as if he would like to throw something at him....
after the show John Hudson came up to the tour bus all alone talked to some fans and then went away to go for a walk on his own..he said that all the others wont come out in a while so we didnt wait.......all that seemed to me (this is really just my opinion...i have no special reasons just a feeling) as if this guy will not be the guitar player on the next album (if there will be one).......
i was kinda disappointed by the setlist in a way....it all seemed to me as if a band does a reunion show just to make money and plays all their hits (Epic, Easy, We care a lot, Midlife Crises, Evidence....) as far as i know that from the setlists of the 1995 shows they played nearly all the songs they played two years ago....and just replaced some songs by new ones....
one surprise was "Collision" from the new album....it's the opener on "AOTY" and i didnt really didnt like that when i listened to the tape.....but live it really was a killer.......also "Just a man" and "Evidence" were very good as well......all in all i thought the show was ok but i really had expected much more..........
so ........ hope you still look forward to see the britain gigs.... that was just my opinion.maybe one of the other three will add some personal opinion....
Björn Eichstädt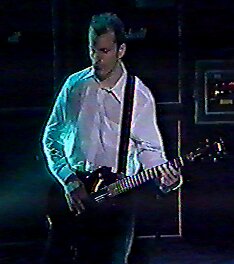 oh boy..
what a decent show. :( first of all I didn't get in due to problems with my ticket. well the show started without me. 15 min into the show I cheated my way into it. (they had these stamps on your hand and I copied them) the band wore these nice suits and played all these nice songs, but... they were excactly the ones from the 95 tour, only they sounded shit. the soundegineer was on acid or something. you could barely hear keyboards and guitar. (the guitar parts that you did hear were mistakes that John boy made.) I don't know what's going on with them. mike sure is awesome by his "acting" on stage. billy plays good bass. puffy is the best. roddy...(I couldn't hear him at all, besides for parts where he was ONLY playing, as soon as bass and vocals were there he disappeared) I did already mention the horrible "95" taste of the show. KFAD followed by EPIC followed by Just A Man (with them screwing up the whole song, this time NOT only John) or.. be aggressive/midlife crisis. WCAL, easy, evidence, land of sunshine, introduce yourself. maybe I saw to many shows to still wet my pants in hearing the SAME old songs over and over. (you can all hate me for seeing soooo many shows.) I always thought a new tour would bring in something new. a surprise or something. it's the Concord Pavillon show september 95 with a couple new songs played with the same enthousiasm that you have at the end of a 7years world tour.
the new songs. god.. don't ask me. Last Cup Of Sorrow *really* sounds cool. nice atmospheric vocals, good guitars...
the other songs can go to germany. I've never wanted songs to stop before, but these new songs did it. "collision.." huh huh.. neat. him screaming that twice by them playing fast punk. followed by a mellow middle twiddle and the "collision" screams again. the second last one (don't know the title.. we heard that one on the amsterdam radio broadcast that was yesterday and I left the room since it sounded so shitty. maybe bjoern/frank can name that thing) left me with a puzzled impression on my face. there is no way that I could say that this song is good without grinning as you do when you lie to someone and realize that the other person doesn't believe it. most of the new ones sounded pretty strange anyway. nice guitar intro in the beggining followed by something different. sometimes I had the feeling that they want to build up to something and just when you'd want to say *NOW* the whole song completely changes as like from bon jovi to bad religion or boys to men. oh yeah 'Naked' I think is the title (I didn't listen to the album yet) with the going up and down guitar part was also kind of okay. sounded pretty intense.. if only they wouldn't change rhythm and everything once you got used to the thing. the guitars did sound pretty muffled or like.. held back on purpose for the entire show. nothing was as "clear" as it used to be.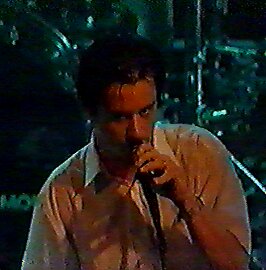 the good thing is that the songs I did like (from the wavs) were the ones that they didn't play. :) so hopefully stripsearch and she loves me not sound as good as on the album and live (once they got their shit together) I thought when listening to the wavs.
all that might be slightly influenced by the shit that happened before the show, but I swear, I thought about it on my way back today (4hours) and this is how I feel about it. Even if I did get in in time and all that ... something was wrong and missing. I didn't want to lie to you guys, so here was my honest review of the show.
I did smile during the show when patton dedicated one song to Heino and I was happy when hearing people screaming for Mr.Bungle! and the everyone does a solo part was neat, too. bass solo (some catchy polka kind of thing), keyboard solo.. (hahaha.. I wonder whether anyone heard these wolves from the caffeine intro.) drum solo (some rockin' thing) vocal solo (he sung something like "oh yyyeeeeaahh. Eyyyiieeeeee loooooooOOOOveee yeeeouuuuuuu. thank yeeeeouuuuuuu") and a little guitar solo (sounded like kiss to me. hehe..)
Stefan Negele
Hmm,
Seems there are some negative vibes going on about the new songs/concerts. Anyway, I liked both the concerts I've seen, and I definitely like the album
I don't think Jon Hudson is a bad guitar player. He's a 'copyist', though, since he doesn't change a single note of the old songs. But he is able to play Evidende very well, and that requires some skill I am told. He's a true FNM guitar player since he is completely anonymous. Another reason probably why Trey Spruance didn't stay.
I'm also a bit disappointed by the setlist. They played the fucking exact same set in Amsterdam and Koeln, except that Koeln didn't work out all that well so they decided to skip Got That Feeling. It was on the setlist, though, since I saw it stuck to the soundboard. I saw they tried some other songs in Stockholm , but maybe they didn't work out... And the funny thing is that the songs from AOTY that they don't play are the best ones. Good luck to you. Oh and by the way, GET RID OF EASY!!!!! It has worn out. It has had its time. There are better songs to play. Get the fuck rid of it.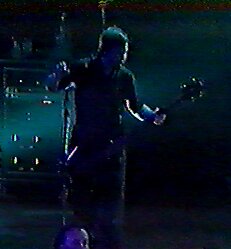 The German crowd keeps surprising me. This time around, the crowd looked pretty normal (at a previous FNM show in Dortmund *everyone* looked like they had mistaken the venue for one of those trendy bars where you must hang out in order to be cool). Their behaviour sucks, though. The extended ending of KFAD (which was really beautiful, with Mike making bird noises and Roddy playing almost inaudible keyboards (on purpose, not because of the shitty sound)) was fucked by the Germans with cheering and shouting. "Naechstes Lied, bitte." Some very cool crowd participation, if you ask me :-( And I am always surprised to see people who have stood around doing nothing live up when Epic is played. "Fuck, this is the song I know, I have to show my friends that I know this song. I have to be cool."
At the beginning of the show, I was on the balcony just like I was when Bungle played there a year ago. But during the openings songs, the sound was so fucking horrible that I had to get downstairs and dive into the crowd. The sound engineers should take this advice to heart: all knobs at 12 o'clock and don't touch them for the rest of the show. Downstairs, the sound was okay.
That's all I had to add. Sorry if I continued the negative vibe. I liked the show, thought Amsterdam was a whole lot better, though. For those who are still waiting to see them - enjoy yourselves!
Frankco Lamerikx
970504Billy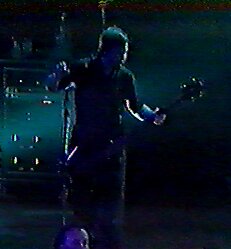 970504Jon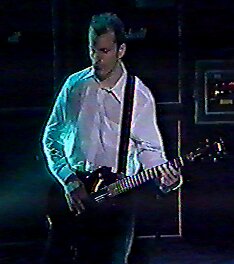 970504Mike1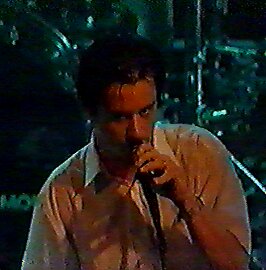 970504Mike2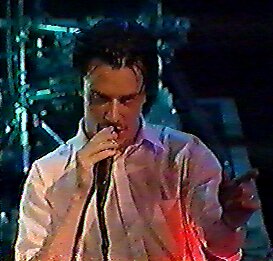 970504Roddy