Setlist:

May 6, 1997 Hamburg, Markthalle
Hamburg, Markthalle &nbsp
May 6, 1997 Hamburg (Germany), Markthalle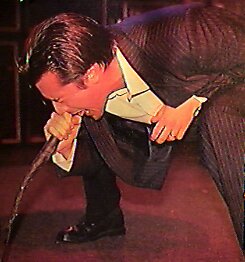 On may 6th a friend of mine and I start our trip to Hamburg where we are allowed to see FNM perform live a second time! We arrive at 16.30 at the Markthalle and ask when the people will be let in the hall! We are told that the doors will open at about 20.00! So we decide to just look around at Hamburgs city! As it's raining pretty heavy we visit some stores and cafes!
At about 18.30 we walk back to the "Markthalle" where we put our whole stuff in the car and then go to the doors. At the entrance there stand about 5 people! So we also decide to wait in order to catch some sounds of the sound check and since we have no idea of how the hall will look like inside! So we stand and wait there for about an hour and some more minutes (Me just in a t-shirt)! It is getting pretty cold and we hear nearly nothing of the sound check! Finally they open the doors at about 20.10 and some time later we are in the hall which is a great one! It has got this personal atmosphere because it's pretty small but you are able to see from nearly everywhere! At the t-shirt station we register (introduce ourselfs) in a visitor's book (guest list) for FNM fans!
After sitting and looking around the "special guest" comes on stage: "Bad Sin" or something like that, a punk band from Berlin, Germany. Although I don't like punk very much and although I also don't like their music their show is some kind of special. Sometimes a guy enters the stage spitting fire! But nobody from the 800-1000 (It is sold out!) FNM-fans starts to dance or to headbang! They all (including me) sit around and just watch them play smoking a cigarette or drinking beer! When the guys finish their performance (about 30 min) the people stand up slowly and go close to the stage! My friend and I belong to the first ones! So we have a goddamn good place! After some more waiting (sound check and other stuff) the real show begins with the theme from 2001! Mike and the rest of the band come on stage very relaxed! Mike comes on stage looking like a dress- or gentleman like in the "A small victory"-video (wearing a white shirt and with a glass of wine or even "sour"! Except for Puffy they all look elegant! Suddenly the guys start of powerfull with
"Be A.G.G.R.E.S.S.I.V.E." which is great as opener!!! After this dope song they continue with another smooth one: Midlife crisis! Sorry, but I can't remember the correct order after this one! But it has got to be like this:
Be aggressive
Midlife crisis
Ashes to ashes
We care a lot
Gentle art of making enemies
Easy
Evidence
Introduce yourself
Take this bottle
Naked in front of the computer
Just a man
Epic
Last cup of sorrow
"Ain't talkin' 'bout dub" (Apollo Four Forty)
King for a day
Land of sunshine
Surprise, you're dead!
Caffeine
Collision
(I'm not sure if they even did "Got that feeling" and "Mouth to mouth")
Somewhen Mike asks what to play next and somebody of the audience says "Ashes to Ashes" which they played just a few songs earlier! Mike responded "We played that already, stupid! You'd better fuckin' pay attention" and asks "Shall we play it once again for you???" what they don't do!
We care a lot is introduced by Mike questioning "Where were you all in 1986?". I like Mike's faster version of this song a lot more than the original one by Chuck!
As you may see in the setlist Mike starts to sing the song "Ain't talkin' 'bout dub" and he wants the crowd to become involved in the show! But he can't move the people to really interact with him this time!
Later on in a small break between some songs Mike asks a security guy to come up on stage for a massage. First the guy refuses to do it but as everyone is yelling and applauding he changes his mind and does what he was ordered to! First he does Mike's shoulders, then his back and his butt and afterwards Mike wants him to do another special part but at this time the guy has enough...
At the end of King for a day ("Don't let me die with that silly look in my eyes ...") Mike stands still staring at a fixed point in the audience for about 5 minutes! Somewhen he begins to play with the microphone and his mouth!
At Caffeine Mike's mike slides out of his hands (as in the Video Croissant on MTV's something) and as he does not get it back in time he just takes another reserve mic! In the finishing part of the song he does a bit of staring again and suddenly screams his heart out again! During the whole concert Mr.Patton kisses the ground at least 3 times and as usual he often is very close to it! In between he always starts to talk about "sour" which he likes most! And he asks us for our opinion on "sour"! At the end of one song (maybe Evidence) he drinks a small glass of his "sour" and throws it into the crowd!
Roddy is pretty quiet for him! A few times he says something like "Are you (guys) ready to rock?"
I enjoyed the gig a lot! I don't think like I read in other concert comments that FNM are not the same! OK, John could have been better, he didn't do some own stuff and there was nearly no real action of him! He wasn't even introduced! He isn't really in FNM yet! But I hope that the guys will be able to cope with that guitarist problem pretty soon because I don't want them to split! You can say want you want: They still rule! They still have their power and I think that the new album is great! I even had the feeling that Puffy and Mike were really enjoying their time laughing a lot!
I've not heard "The Big Kahuna" yet but the rest is really great! My favorites are "Got that feeling", "Ashes to ashes", "Collision", "Home sick Home", "Naked in front of .." and of course "Last Cup of Sorrow"!!!
Back to the concert review: The only things I was disappointed of was are that the sound could have been a bit better some times and that they didn't play "Zombie Eaters" and as a german it would have been funny if they showed up for "Das Schétzenfest"! Another thing that I didn't like that much was the audience which was not completely into the concert! The atmosphere could have been a little better! But all in all it once again was great!
970506Mike