Setlist:

June 24, 1995 Oslo, Isle Of Calves Festival
Oslo, Isle Of Calves Festival
June 24, 1995 Oslo (Norway), Isle of the Calves Festival
About the venue: the festival was a two-day weekend event and sported the following line-up:
Saturday 24
FNM
Slash's Snakepit (blecch)
Clawfinger
Motorpsycho (Norwegian - not US band)
Conception
Bloom County (local Nirvana rip-off crap)
Sunday 25
Offspring
Ramones
NOFX
CC Cowboys (Norwegian crap)
Raga Rockers (ditto)
More than less (local crap)
..or something to this effect. I only went Saturday for obvious reasons. The Isle really is that, a popular bathing facility complete with nude beach. Saturday saw around 6-7000 visitors. Festival "light" so to speak. I will spare you any comment on the other bands (some are good some bad), apart from one little thing about Slash's Snakepit; they were constantly throwing towels, plastic snakes, their shirts etc. into the audience - and one bright head started throwing back hot dogs. ALL RIGHT! Hit the vocalist smack in the face!
FNM setlist:
Ricochet
Be Aggressive
Midlife Crisis
The Gentle Art of Making Enemies
Evidence
Caffeine
What a Day
Easy
Introduce Yourself
"Glory Box" (Portishead)
Get Out
Caralho Voador
King For a Day
Epic
Digging the Grave
Just a Man
Encore 1
We Care a Lot
From Out of Nowhere
I Started a Joke
Encore 2
Let's Lynch the Landlord
Take This Bottle

WOOOOOOOOOOOOOOOOOOOOOOOOOOOOOOOOOOOOOOOOOOOOW!!!!!!!!!!!!!

This show was REALLY special - it started out pretty normal, until they got to Midlife Crisis, when somebody threw a fish up on stage (probably as a little comment on their previous Oslo show, when the band talked about fish a lot). Well, Patton picked it up, looked at it and pulled it over his microphone! He then sang the last verse through a fish! Yes, it does sound weird. But that was just the beginning. After the song, Mike said: That's Dean Menta on guitar - say hello to the people Dean! Dean walked to center-stage, turned around and mooned the audience for over a minute. The rest of the band were commenting all along. Mike: that's our good boy! Roddy: I dunno Dean - somehow you look *different* Mike: Dean really wants to play the rest of the show like that.

And guess what.

Dean played the rest of the normal set with his shorts pulled down to his knees !!!!!! They started Evidence, and Dean just stood there, bent over, mooning us! Mike had thrown the fish back into the audience, but now someone threw it back -hitting Dean's ass. It was really weird. TGAOME was excellent! During the extended Caffeine part (before and after I'm warning you etc.) Mike talked and talked. The song must've lasted about 10 minutes!!! Someone threw up a wallet, and Mike went through it: OK. Tony (last name I don't remember) - you're wanted on stage. Come here Tony. Gnarly. You look weird, man. Who ARE you, Tony? Tony. Tony. Who's Tony? (various audience members raised their hands) Do you know Tony (Mike addressed a particular person near the stage)? Do you know where (street name in Norway) is? Are you going to give it back? No money in here. (Mike tossed it into the crowd - cards and notes flying out of the wallet). I'm warning you! I'm warning you! I'm fucking you Tony! I'm warning you! Mike went on: Do you all know that these guys (points to band) are waiting for me? That's the beauty of it. They can't go on until I tell them to. hehe. Should I get my shit together? Do you want me to get my shit together? DO YOU WNAT ME TO GET MY SHIT TOGETHER? (The band played hte same monotonous notes) Finally, the song carried on. WOW! Great stuff! Then, moving along through the set, FNM seemed to really enjoy themselves. Glory Box was hilarious. "Oh - I just want to be a wo-maaan" Caralho Voador was brilliant too! Roddy played the melody with a really cheesy keyboard sound - it reminded me of bad porn-flick music. KFAD was as usual fantastic. Just a Man blew me away. The sun was setting, bathing the stage in a reddish glow, and Mike wanted us to "share the moment - do you wann? There's plenty for everyone!" They extended the end here too, Mike letting the last lyric linger endlessly "and now you're burning.....(Mike ran around punching at the air the band played the same note for over a minute)...MEEEEEEEEEE. Orgasm!

For the first encore, the band came all smiling back to the stage. Roddy said that "we're REALLY ENJOYING THIS!" Bill added: We could go on forever here! WCAL was excellent, I still wonder how they are able to make that song sound new after having played it for ten years at (probably) every gig.
Then, Mike said: We're going to play a little game with you! WE are going to give YOU the RIGHT TO CHOOSE ladies and gentlemen! We've been thinking alot about this, and we've found that when it all comes down to it, it's the BEAT that gets you going! Yes, the Rock 'n' Roll drumbeat! (Puffy waved his sticks) SO we're gonna play a few drumbeats from some of our songs, and let you vote for the one you want to hear. I there's one you like, raise your hands and yell, OK? (they first played one I didn't recognize, kinda slow, so the there were not many votes for it. Then they played the beat for FOON, and the crowd went wild! Finally, Mike asked for Mark Bowen, but the audience didn't like it. So FOON it was. As usual pretty wild, with Patton all over the place, kicking and screaming. Still, I was more keen for Mark Bowen, so I silently cursed the audience for being so stupid, while I boogied on.) Some people had started sliding in the mud beneath a water fountain/shower so BIlly accused them of watching too much television and that "this isn't Woodstock you know". hehe However some fuckers started slinging mud up to the stage, hitting the band now and then. It was obvious that FNM didn't like this, but they just carried on. It was really unnecessary. Stupid fucks. ISAJ was performed with excellent vocals - Patton stared into the sunset, pointing - and definetly shovelled on heaps of pathos and irony at the same time. They left, and five minutes later people had given up shouting for more, and most ahd started leaving when Billy and Puffy came back on, smiling wickedly, and starting on Let's Lynch. They played just the rhythm for over two minutes before the rest came on, creating history since this song has never been performed in Norway before. At least history for me, being a total FNM freak. Take this Bottle ended a fantastic concert experience, probably the best one I've ever been to with FNM. Every- thing was perfect. The weather, the band, the songs. And Dean played the whole set with bare ass. What a DAY!

Eric (deadgoon@avh.unit.no)
950624MiDe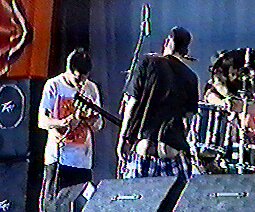 950624RoBi