Setlist:

June 5, 1993 Hamburg, Grossmarkt
Hamburg, Grossmarkt
July 5, 1993 Hamburg (Germany), Grossmarkt
Caffeine
Be Aggressive
Mark Bowen
The Crab Song
Midlife Crisis
RV
Land Of Sunshine
We Care A Lot
Chinese Arithmetic
Crack Hitler
Edge Of The World
Falling To Pieces
Death March
Surprise! You're Dead!
Woodpecker From Mars
Jizzlobber
Introduce Yourself
A Small Victory
Easy
Epic
All songs can be found on the God Is Dead! and Europe 1993 bootleg CD's.


Mike Patton with the Naked City T-Shirt.
930605Mike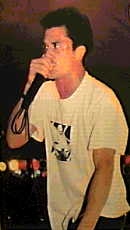 930605SMike