Setlist:

November 9, 1992 Essen, Grugahalle
Essen, Grugahalle
November 9, 1992 Essen (Germany), Grugahalle
Caffeine
Falling To Pieces
Land Of Sunshine
The Crab Song
Midlife Crisis
Chinese Arithmetic
RV
Surprise! You're Dead!
Be Aggressive
Introduce Yourself
Easy
Crack Hitler
Everything's Ruined
We Care A Lot
Woodpecker From Mars
Jizzlobber
Epic
Encore 1
Kindergarten
Let's Lynch The Landlord
A Small Victory
Mark Bowen
Encore 2
War Pigs
Faith No More recorded the live tracks for the Easy single(s) on this show.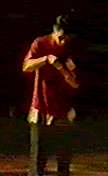 "Anybody lost a wallet!"
21109MikeJim
21109Wallet