Setlist:

September 27, 1997 Dallas (TX), Deep Ellum Live
Dallas (TX), Deep Ellum Live &nbsp
September 27, 1997 Dallas (TX), Deep Ellum
Midnight Cowboy
Collision
Midlife Crisis
[stall]
"This Guy's in Love with You" (Burt Bacharach)
Last Cup of Sorrow (for about 30 seconds)
[stall]
Last Cup of Sorrow
Gentle Art of Making Enemies
Evidence
Easy
Introduce Yourself
Get Out
Home Sick Home
Ashes to Ashes
King for a Day (w/long ending)
Pristina
Epic
Just a Man
Encore
Stripsearch
Take this Bottle
Ok, first to clear up some confusion, they didn't play "Digging the Grave" as someone else's post said. It was definitely "Get Out". In fact, it was kind of funny, because they played it right after "Introduce Yourself" and Mike Patton said "This next song is the same song as the last one" and then they played "Get Out."
Beginning the show with Midnight Cowboy is a really great way to start things off. They seem to have dropped all the pre-show music and the Caesar's Palace introduction thing, which would have sounded pretty weird going into a song like Midnight Cowboy. Anyway, it's a really classy way to begin the show. They came out in the dark, in their suits, and then the lights went up gradually as the song built. Patton plays a melodica or something, an instrument that looks like a hose with a little keyboard attached...it's pretty interesting to see and it sounds nice. After the song, there was a little scramble on the stage to get things together for Collision, but it was a cool transition to go from one right into the other.
For those who missed the other posts, the barricade between the stage and the crowd collapsed near the end of Midlife Crisis. Luckily no one was hurt or anything, but there were a couple of tense moments, and it kind of slowed the momentum of the show down a little. They stopped playing for a while and the security guards tried to get Patton to help with crowd control, something he did with a lot of enthusiasm in the spirit of cooperation (note...yes, that was sarcasm) Patton wanted the barricade taken out entirely, the club management didn't...so it was a little battle of wills kinda thing or something. He seemed kind of annoyed that he was expected to do the crowd control thing at all, and wasn't being really cool about it. I guess when someone yells "Get that fucking asshole to stop the show and make them back up," you wouldn't tend to wanna be very helpful or something, not that there was much anyone in the band could do about it anyway.
Mike Bordin came down and asked if everyone was ok, and tried to help security hold the barrier up while they worked on it, which was totally cool. Then, the security people fixed the barricade while FNM played the Bacharach cover for about 10 minutes.
Anyway, as soon as Last Cup started, down the thing went again, and this time Patton was pretty vocal about telling them to just take it out. At one point, he suggested that the band would leave if they didn't end up taking the barrier out of the pit, "We could just leave, and then you'll have an even bigger problem, won't you?" Needless to say, the barrier was removed.
The crowd control thing was pretty funny actually (For those not in danger of being squashed like little bugs that is). The club people kept telling Patton to say things to the audience, and I don't think he did quite what they had in mind: "They want me to tell you to re-lax. AAAAAAAAAAAAAAAAAAAAAAAAAAAAAAAAAAAAAAAAAAAAAAAAAAAAAAAAAAAAAAAAAAAAAAAAaaaa aaAaAAAAAAAAAAAAaaaaaaaaaaaaaaaaaaaaaAaaaaaaaaaaaaaaaahhhhhhhh!!!" Then, the club management guy went onstage and was saying stuff about positive energy and other amusing new age hippie things while they tried to get the crowd to move back. Patton made fun of him.
Roddy started talking about Dallas, the tv show, and said something about the dream season. "I felt like I'd been had," to which Patton added, "Kinda like at this show..."
Getting back on track with Last Cup of Sorrow, minus the fence, they got things going again. The show sounded really good, and where I was standing, the mix seemed just about right. I think that the band sounds a lot tighter than they did on the 95 tour...the songs seemed to flow a little nicer and they didn't sound like they were just spitting out songs to get through them and onto the next. It sounded like they were putting a lot of effort into making things sound really good, and it worked. Anyway, it's also kind of cool to see them work stuff out live...there's a lot of unspoken communication going on onstage if you just watch for it, like cues to end a part and signal the next thing or whatever.
I think the best combination of songs has to be King for a Day into this drawn-out ethereal-sounding ending with Patton doing some amazing vocal sounds, then blending into Pristina and then into Epic. That sounds really awesome together, and for me, that was one of the highlights of the show. The long ending of King for a Day sets up the right mood for Pristina, which just builds into Epic really well.
Mike Bordin is one hell of a drummer. I think the guy broke about 8 sticks during the show, and a few drum heads as well. He pounds the hell out of those things. That's gotta be a huge workout to keep that up for 80 minutes straight or whatever. During the show, one guy kept yelling for Jizzlobber, and Bordin played the first measure of it...which a few people in the audience noticed with a lot of excitement. What a tease!
Patton's stage act has got to be the cheesiest thing I've ever seen someone in a "rock" band pull off onstage. It's hilarious. For those who haven't seen FNM live this year, this guy's got more moves than anyone on the Vegas strip combined. Maybe it's inspired by the clothes...but it's pretty funny whatever it is...exagerated gestures, dramatic poses, pelvis motions...he's got 'em all! Not to say Mike's a ham or anything (ok...I lied, that's what I'm saying), but this guy sure knows how to work a crowd.
Despite the fact that it looks like this show was the 12th for FNM in as many days without a night off and they all looked pretty exhausted, you definitely wouldn't know it from their playing. Now, Texas is one hot place, and it was like an oven on that stage. I noticed they dropped Naked in Front of the Computer from the setlist, and added Take this Bottle at the end instead. It's nice that they have enough variety in their songs that they have the option to slow their set down like that when they need to.
Most of the audience seemed to be pretty into Faith No More to begin with, and despite the problems early in the show, I think the crowd stayed pretty enthusiastic throughout. I noticed the singer from Limp Bizkit in the front row for FNM's set.
hobo.
More pictures [all made by Heather Scott]
The show was great! I'll list the low and high points after I tell you what they played:
1. Midnight Cowboy (with that watchamajiggie)
2. Collision (barier holding the crowd about four feet from the stage broke, asshole sercurity people thought they could hold it up, that happened about half-way through Collision, then they started Collision all over.)
3. Midlife Crisis
4. This Guy's In Love With You
5. LCOS (Security guards couldn't hold the barrier no more, they asked Mike what to do and he said something like he knew nothin about crowd control, he also refered to one of the security guards as fat and the security guard make a gesture like, "you wanna piece of me?" Anyway they finally agreed to disassemble the barrier and laid it flat, It was cool cuz it made me and the crowd like 5 inches taller.
6. Evidence
7. Easy
8. Introduce Yourself
9. Get Out
10. Home Sick Home
11. Ahes to Ashes
12. King For A Day
13. Pristina
14. Epic (Once again he asked if anybody wanted to go swimming and if anyone's parents had a swimming pool, he also asked someone to blow their breath on him to see what he had for dinner.)
15. Just A Man (Once again Mike asked what everybody had for dinner and once again he said Pesto, I hope you realize now that this is just an act. He also asked someone to blow their breath on him to see what he had for dinner.(I had a burger that gave me a killer stomach ache through out almost the whole show)
16. Stripped
17. Take This Bottle
Lowpoints:
Mike's voice was to loud (It kinda over powered all the other instruments and his voice got distorted sometimes.) I had a killer tummy ache. Billy signed my Sepultura CD "Igor". About 5 of the CD covers I got signed smeared, but Billy smeared them so it was OK. Mike wouldn't come out after the show to sign stuff. I forgot exactly when the Encore was, DAn you remember?
Highpoints:
Got all my CD's signed by Billy before the show (I was the only one who knew it was him) I had every thing with me, he said "Thats quite a collection" and then when he saw my "Sentrum Scene" (Bootleg) he started laughing and said "I gotta get this one!" I went into the FNM dressing room (I stole the sign that said it, I'll scan it later) I saw all their suits and a chest that said Patton, I tried to open it but it needed a key. (I could have stole any of that stuff, but I'm wouldn't do that to my fav. band) I stole a Limp Bizcuit drum stick and met all the guys, They thought I had a pass since I acted so casual, I got close-up pics of all of them. One of them said "Hey it's one of our fans" while I was thinking, "YEA RIGHT!" They had a pretty cool turn-table though. I also shook hands with everyone in FNM except Patton. I know for an absolute fact that the show was recorded on video tape. The camera was all the way in the back where the sound board and stuff was. Let me know if any of you remember exacly when the Encore was.
I'll be damned, FNM are the best. Came over to Dallas to see them from New Orleans, and the nine hours there and the nine hours back were well worth it to see the band.
I'm gonna leave out all the FUN(and i do mean fun) details b/c i know the other CVers there had a better view of the total CHAOS that was going on. But here are a few observations of mine:
The sound of the band was incredible, maybe even the best i've ever seen. The sound mix was perfect except at the beginning when mike's vocals were a little loud and nearly ripped our heads off when he started screaming, but that's fun.
Jon is an excellent guitar player. He played all songs note for note and sounded incredible. A highlight of his was the solo for Easy, which showed off his ability. He makes some damn goofy faces when he's playing, often resembling Christopher Lloyd. As far as any comraderie between him and the rest of the band, he looked like he was in his own world when he was playing. He hardly made any eye contact with the other members.
Most of the show Patton looked like a reformed lounge singer gone mad. He definitely has a sense of arrogance about him, but when you're the best, that's okay. Seeing him live just confirms everyone's opinion that he is phenomenal and is arguably the most diverse vocalist ever. He even threw in some Adult Themes for Voices type stuff at the end of King for a Day. Sly Dog.
Billy is a real trooper. He just plain has fun when he's playing, banging his head on even the softest of songs. I don't know what gear he uses but he has an incredible sound coming out of that bass.
Roddy and Puffy were incredible, also. They both were having a blast during the whole show.
Stripsearch sounded great. Heck, everything sounded great. For being together 15 years, the band still has excellent energy. Go see 'em if you can! Okay fellow CVers, let's get some of those fun details in!
As usual, Faith No More was amazing (despite many problems with the venue and its pathetic management). I won't bother to make the Limp Bizkit/Korn comparison because that's pretty widely established. They weren't bad musicians, but I'm really tired of these Rage Against the Korn spin-off bands. Anyway, the show got started with Midnight Cowboy (Patton playing the keyboard apparatus mentioned in earlier reviews). Then they went into Collision and Midlife Crisis. During Crisis, the barrier in front of the stage fell over (not very fun for those of us getting crushed against it) and they had to stop the show . Patton was getting irritated with the security, as was everybody else in the place. He said "They're asking ME what I think they should do! I'm sorry, but crowd control isn't my fucking specialty." Eventually, at Patton's constant pleading, they removed the barrier and continued. A warning about Deep Ellum: they charge $1.25 for a little plastic cup of water. That's not all that uncommon, but it was so hot in that place that people were passing out. I had to leave the front before the last three songs because I was about to myself. The place was also very overcrowded. There were at least twice as many people crammed in there as there should have been. FNM's stage presence and crowd interaction was similar to the to other shows, so I won't bother to cover them here.
They played a couple of covers (at least I think they were). One might have been that Bacharach(sp?) cover I've been seeing around. It was a mellow type love song. When they were trying to get everyone to back up so they could remove the barrier, Patton introduced the song by saying "We'll play something to help you back up." I'm sure someone will fill in the gaps in the setlist later. There was one encore despite the heat. The whole band looked dehydrated up there and I'm surprised they came back out. When they played Houston back in '95, they canceled their encore because of the heat in the venue. I guess Texas clubs will never learn.
970927Bach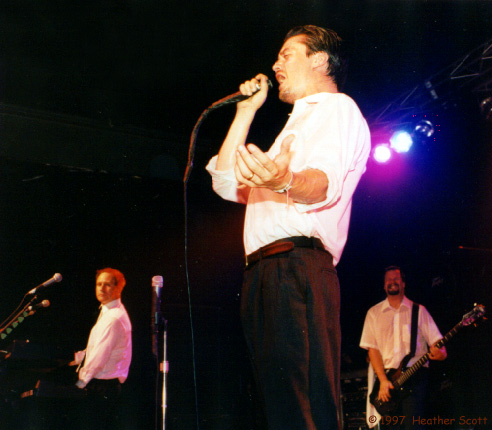 970927Barrier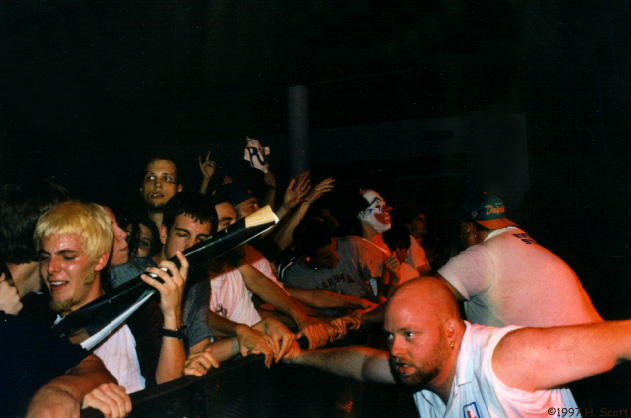 970927Bill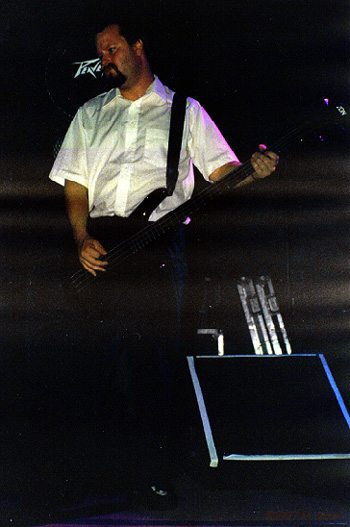 970927BillMike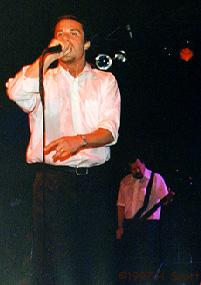 970927BillPuffy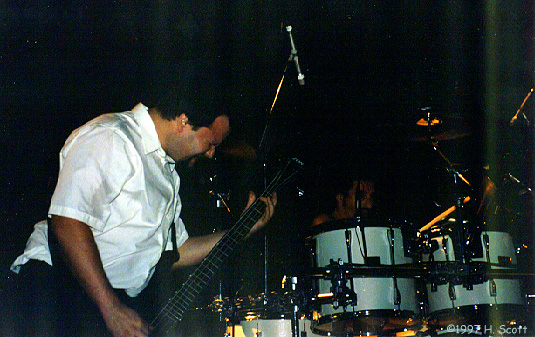 970927CrowdControl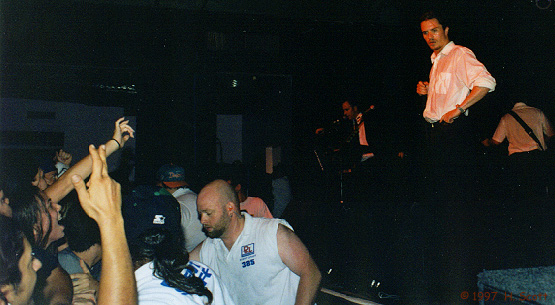 970927Hudson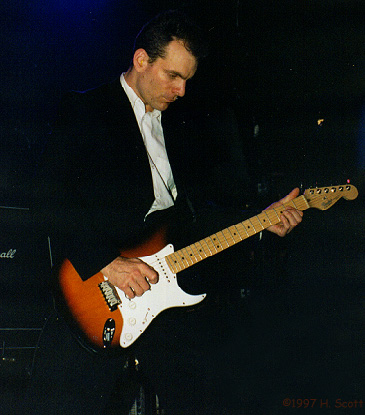 970927Jon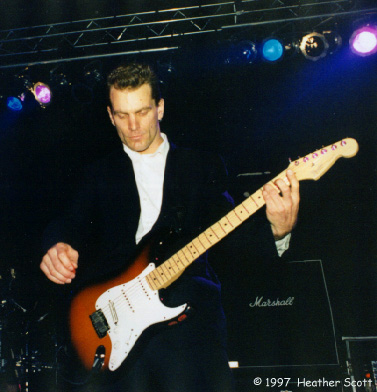 970927Midnight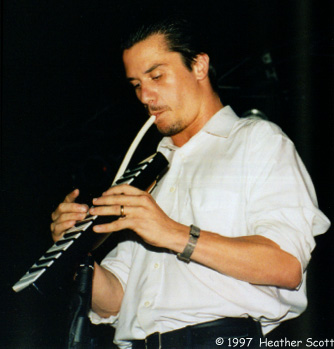 970927Midnight2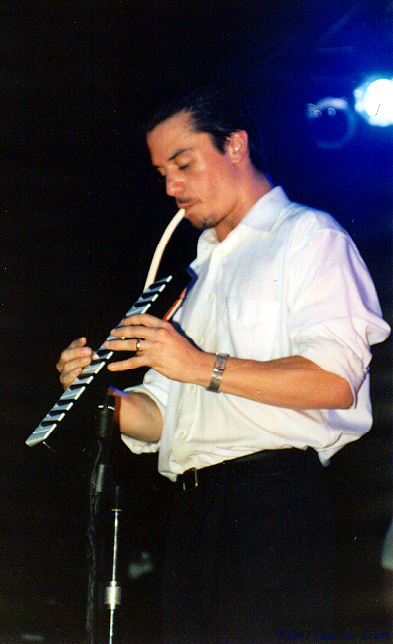 970927Mike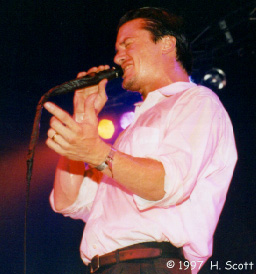 970927MikeJon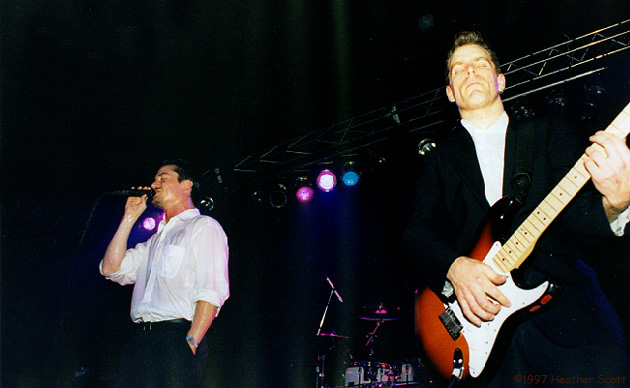 970927Patton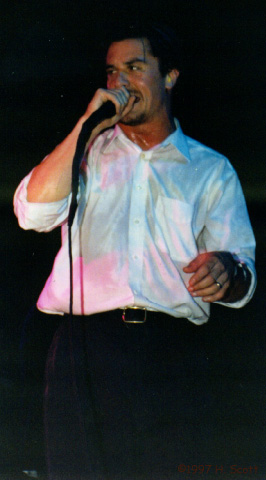 970927PattonBill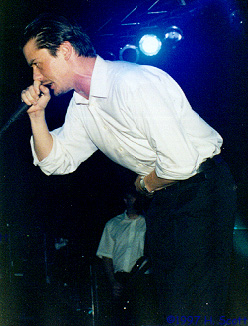 970927Puffy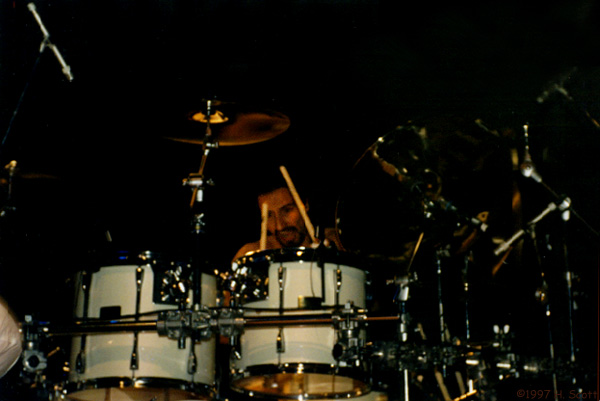 970927Retard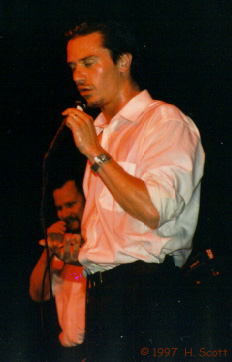 970927Roddy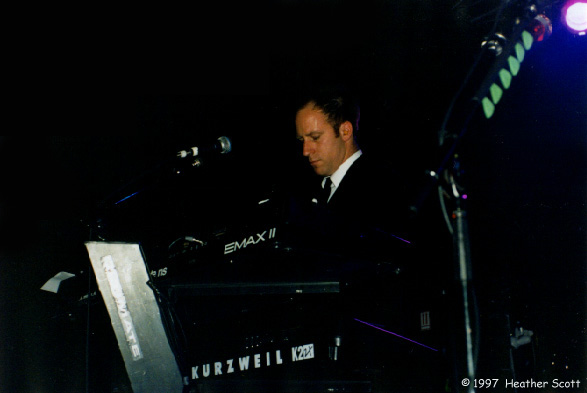 970927RoddyMike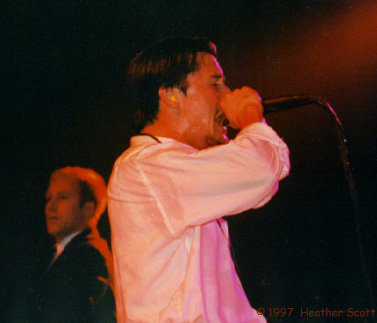 970927RoddyPatton